Greenbox Self Storage is on a mission. Yes, we're a self storage company, and we want to provide the best service possible to our storage customers. But we have another mission. And that's to spread the world of sustainability across our fine state of Colorado and beyond. Going along with that mantra, we've decided to sponsor events for companies, organizations and influencers looking to spread the word of their earth-saving endeavors. We'll provide the space for your 'green' event at no cost to you, so you can focus your efforts on spreading your message and cause.
All Greenbox Self Storage facilities are solar powered, getting anywhere from 80-300% of their power from the sun (depending on facility and time of year). Our facilities also have LED motion-activated lights, biodegradable cleaning supplies, and paperless operation systems. Basically, we do what we can to minimize our carbon footprint. But us alone doing our part won't save the planet. Luckily there are many other businesses and organizations going green and by offering space for your events, we hope we can spread the word and practices onto others!
Who Can Request Our Event Space?
Businesses
Any business whose event promotes 'going green' or sustainability is welcome! Examples include solar companies and installers, retailers with earth-friendly products, and technology companies with solutions aimed to save the planet. These are just examples, and anyone is free to submit a form.
Organizations and Non-Profits
No matter the size of your organization, rest easy knowing you can throw events at no cost to you! Whether you're a large organization like Sierra Club or a smaller community group, our space is free to use. We know money is often types for these sports of groups, but we know your cause I strong and that you care! Examples of these sorts of organizations would be conservation groups, wildlife rescue organizations, and so much more!
Influencers
This would any single person who has built up a large social following promoting their personal, earth-friendly mantras. This includes influencers with specialties in organic, waste-free eating, waste management, sustainability, animals and ecology, etc., etc. We know you're looking for the proper forum. Let us provide it for you!
The two event spaces we utilize are located at Enterprise Coworking in Denver and they can accommodate up to 150 guests! Check out the spaces here. The Classroom is an indoor venue while, in the summer months, utilize our rooftop venue for stunning views of the mountains and the Denver skyline!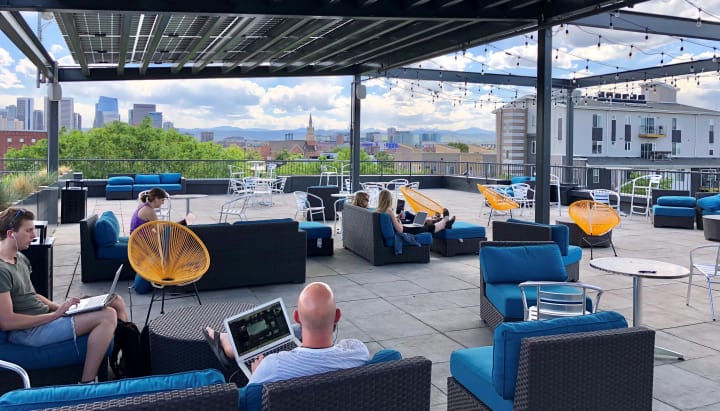 Our first event of the year is this Saturday January 12th! Sierra Club will be throwing the event and we expect a great turnout! Sierra Club tackles issues relating to climate and energy, water, wildlife, air quality, and even people and justice. Check them out here!
If you have an event you would like to throw and need the space, contact us here. We look forward to seeing all of your ideas!